Grams to Cups Converter
Welcome to math auditor. A place where you can find many calculators and converters like Grams to Cups Converter, Cups to Grams Converter, and many more. With the help of these grams to cups flour, grams to cups sugar, grams to cups water converter, you can easily convert grams to cups, and you can learn that how grams converted to cups. In your daily life grams to cups calculator will help you. If you ever thought that how many grams are in a cup or how to convert 100 grams to cups, you are in the right place.
What is Grams?
Grams are a metric system unit of mass. It is a unit of measurement is used to measure very light objects. We can abbreviate the unit gram with the letter g.
What is Cups?
A cup is a unit of volume equal to 16 tablespoons or 8 fluid ounces. One cup is equal to 236.6 milliliters, but in nutrition labeling, one cup is equal to 240 milliliters
Check Also: Square Meter to Square Feet
How to Convert Grams to Cups
If you want to convert grams to cups, divide the weight by 236.588236 times the density of the ingredient or material.
cups = grams / 236.588236 × ingredient density
Weight = cups * cup size * density
Cups = weight / (cup size * density)
If you provide only the amount of grams is not enough to convert cups to grams and grams to cups.
We also need to know that what is the density of the ingredient which we want to convert.
Grams and cups are both commonly used to measure cooking Material.
How Many Grams in a Cup?
Because of its density, the weight of 1 cup is different for various ingredients. let's take an example if we want to convert 1 standard US cup of water into grams, we get exactly 236.59 g. However, 1 cup of salt weighs around 287 g, and 1 cup of wheat flour – only 141.6 g.
The SI-derived unit for volume is the cubic meter. 1 cubic meter is equal to 1000000 grams, or you can say 4226.7528198649 cups.
Grams to Cups Converter Chart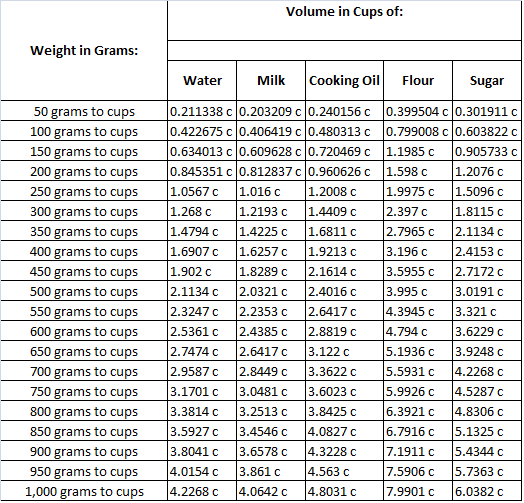 Another Chart for Grams to Cups Converter
| | |
| --- | --- |
| Grams | Cups |
| 1 grams to cups | 0.00423 cups |
| 10 grams to cups | 0.04227 cups |
| 50 grams to cups | 0.21134 cups |
| 100 grams to cups | 0.42268 cups |
| 200 grams to cups | 0.84535 cups |
| 500 grams to cups | 2.11338 cups |
| 1000 grams to cups | 4.22675 cups |
Water :
| | |
| --- | --- |
| Grams | Cups |
| 50g | 3 tbsp + 1 tsp |
| 100g | ¼ cup + 3 tbsp |
| 200g | ¾ cup + 1 tbsp |
| 250g | 1 cup + 1 tbsp |
| 300g | 1¼ cups |
| 400g | 1½ cups + 3 tbsp |
| 500g | 2 cups + 1 tbsp |
Caster Sugar
| | |
| --- | --- |
| Grams | Cups |
| 50g | ¼ cup |
| 100g | ½ cup |
| 200g | 1 cup |
| 250g | 1¼ cups |
| 300g | 1½ cups |
| 400g | 2 cups |
| 500g | 2½ cups |
Granulated Sugar:
| | |
| --- | --- |
| Grams | Cups |
| 50g | 3 tbsp + 2 tsp |
| 100g | ¼ cup + 3 tbsp |
| 200g | ¾ cup + 3 tbsp |
| 250g | 1 cup + 3 tbsp |
| 300g | 1½ cups + 2 tbsp |
| 400g | 1¾ cups + 2 tbsp |
| 500g | 2¼ cups + 1 tbsp |
Icing / Powdered / Confectioners Sugar
| | |
| --- | --- |
| Grams | Cups |
| 50g | ¼ cup + 1 tbsp |
| 100g | ½ cup + 3 tbsp |
| 200g | 1¼ cups + 2 tbsp |
| 250g | 1½ cups + 3 tbsp |
| 300g | 2 cups + 1 tbsp |
| 400g | 2¾ cups |
| 500g | 3¼ cups + 3 tbsp |
Brown Sugar (Packed) :
| | |
| --- | --- |
| Grams | Cups |
| 50g | ¼ cup |
| 100g | ½ cup |
| 200g | 1 cup |
| 250g | 1¼ cups |
| 300g | 1½ cups |
| 400g | 2 cups |
| 500g | 2¼ cups + 3 tbsp |
Flour: White Flour – Plain, All-Purpose, Self-Raising, Spelt
| | |
| --- | --- |
| Grams | Cups |
| 50g | ¼ cup + 1 tbsp |
| 100g | ½ cup + 2 tbsp |
| 200g | 1¼ cups |
| 250g | 1½ cups + 1 tbsp |
| 300g | 1¾ cups + 2 tbsp |
| 400g | 2½ cups |
| 500g | 3 cups + 2 tbsp |
Brown Flour
| | |
| --- | --- |
| Grams | Cups |
| 50g | ¼ cup + 1 tbsp |
| 100g | ½ cup + 2 tbsp |
| 200g | 1¼ cup + 1 tbsp |
| 250g | 1½ cup + 2 tbsp |
| 300g | 1¾ cups + 3 tbsp |
| 400g | 2½ cups + 1 tbsp |
| 500g | 3¼ cups |
Corn Flour (UK) / Corn Starch (US)
| | |
| --- | --- |
| Grams | Cups |
| 50g | ¼ cup + 3 tbsp |
| 100g | ¾ cup + 1 tbsp |
| 200g | 1½ cups + 2 tbsp |
| 250g | 2 cups + 1 tbsp |
| 300g | 2¼ cups + 3 tbsp |
| 400g | 3¼ cups |
| 500g | 4 cups + 2 tbsp |
Butter / Margarine
| | |
| --- | --- |
| Grams | Cups |
| 50g | 3 tbsp + 2 tsp |
| 100g | ¼ cup + 3 tbsp |
| 200g | ¾ cup + 2 tbsp |
| 250g | 1 cup + 2 tbsp |
| 300g | 1¼ cups + 2 tbsp |
| 400g | 1¾ cups + 1 tbsp |
| 500g | 2¼ cups |